OKR (Objectives & Key Results) is a well-known management method that centres the goals of an organisation. With OKR, you  translate your objectives into 3-5 measurable or deliverable results. That way, everybody in the organisation knows how they can contribute to the objectives. We'll answer all frequently asked questions about the OKR method below.
OKR is fundamentally a method to set and achieve meaningful goals. With OKR you systematically link your goals to measurable results. This way, it is clear to everyone how the objective is progressing and when it has been achieved. With OKR, you create direction and alignment within your organization. The aim is to make sure that everyone knows which direction the organization is headed, and where the priorities lie.
OKR stands for Objectives and Key Results.
OKR's Objectives are the long-term goals that are based on your vision and mission. They are descriptions of what you want to achieve. They should be short, ambitious, easy to understand and they should set a clear direction. If your Objective doesn't motivate and challenge the team, it's not a good Objective.
OKR's Key Results are the measurements of the Objectives. If you get a Key Result, it must contribute to one of the Objectives. OKR's Key Results provide an indication of the Objective's progress. They should be SMART: specific, measurable, achievable, relevant and time-bound. Alternatively, Key Results can be defined as 'action results', as concrete deliverables.
Like OGSM, OKR originated from Management by Objectives. While Management by Objectives was conceived by Peter Drucker, Andrew Grove first spoke about OKR in his book High Output Management. When Andrew Grove founded his own company, Intel, he also introduced this method of goal management at his own company. At Intel, John Doerr got to know and work with the method. John Doerr eventually introduced OKR to Google, and nowadays the OKR method is used by large companies worldwide including Spotify and Netflix.
OKR is a proven method used around the world. It's very easy to understand and can offer quick benefits to organisations looking to become more goal-focused. OKR can benefit anyone who needs to set and reach goals as part of their work. Because it helps you translate your organization's vision and mission into measurable goals, OKR helps people understand what their work is contributing to.
Once you have come to grips with this way of thinking and making progress, you should consider putting your OKRs in an OGSM framework, as this provides a nice overview for all your OKRs and offers some other benefits: see below.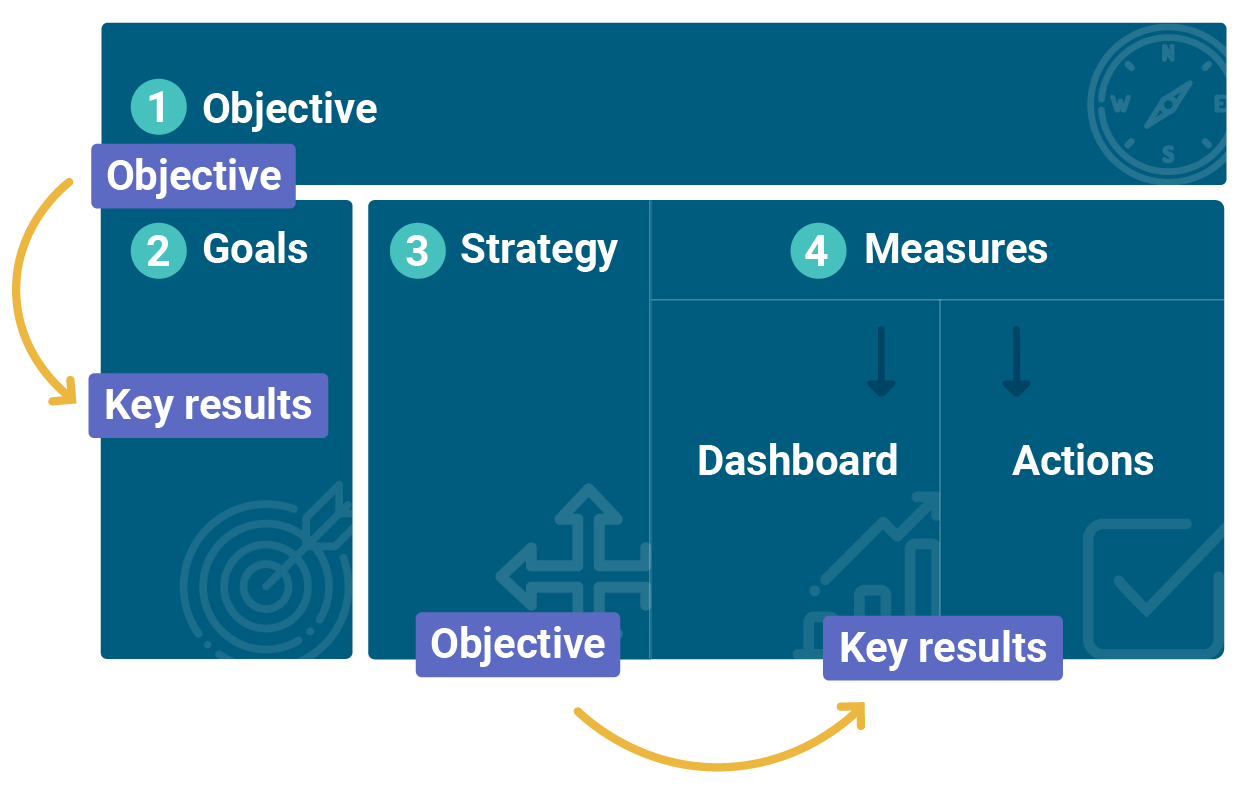 How does OKR compare to OGSM?
You may have noticed that OKR is very similar to other popular management frameworks, such as OGSM. This is because both methods stem from Management by Objectives.
To briefly summarize the difference, you could say that OKR is a very focused, minimalist version of Management by Objectives, while OGSM is an expanded, upgraded version of the same.
OKR is a great method to reach more goal and its accessibility is attractive. On the other hand, OGSM supports users throughout the strategic thinking process by making some key additions to OKR:
The 'what-by-how' formula, helping set clear strategic priorities and making choices explicit;
Strategies (customer, processes, innovation, etc.) defining the way your organisation wants to develop each of these areas;
Leading indicators, helping you predict outcomes and respond in a more agile way – no more waiting for the result.
Want to know more about OGSM? We'll tell you all about it here!
An example of OKR upgraded to an OGSM
This example OGSM plan is taken from the book 'The 1-page business strategy'. You'll see that between the Objective, the Goals and the Measures, all elements are covered, while OGSM also adds additional key information in the Strategies and Dashboard columns. This example shows a fully developed OGSM plan in OGSM Software. All Actions and Measures are linked to the goals. This ensures, just like OKR, that everyone knows how to contribute to achieving the Objective.
Manage OKR in OGSM Software
Do you already use OKR in your organisation or are you planning to use it? OGSM Software can help you with the daily implementation and execution of the OKR plan. You will have access to a clear overview of your OKR on one screen and all relevant progress data. Your team or department will be driven by the sense of progress toward the Key Results. In addition, the software can automatically request progress updates on key results, so you will be able to see problems before they escalate.
How do I manage OKR in OGSM Software?
Because OKR and OGSM are fairly similar and OKR can be viewed as a minimalistic version of OGSM, OGSM Software lends itself perfectly for managing OKR. You enter the objectives of OKR in the 'Goals' field, you enter the key results in 'Measures' dashboard and the 'Actions' column. And voila! Your OKR can now be tracked to perfection.
Upgrading your OKR to an OGSM
Have you uploaded your OKR to OGSM Software? Then you can now upgrade your OKR into a high-quality OGSM. Add a (main) Objective, determine your Strategies, and apply the goal-by-doing formula. For more information on how to fill an OGSM, click below.
Frequently asked questions about OKR